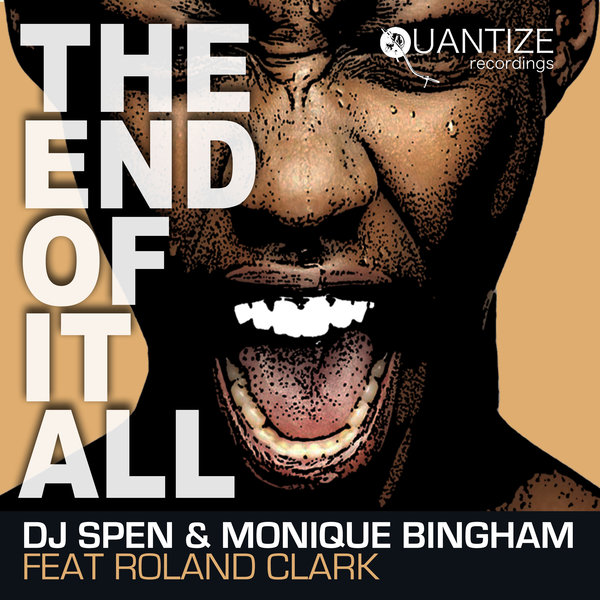 DJ Spen and Monique Bingham ft Roland Clark "The End of It All"
Vocals Written & Performed by Monique Bingham
Composed by DJ Spen & Will 'Reelsoul' Rodriquez
Contains Samples from "Run" by Performed by Roland Clark
Published by Quantize Music Publishing & Boonoonoonoos (ASCAP)
Drums, Arrangements, Mixdown & Mastering by DJ Spen
Keyboards by Will 'Reelsoul' Rodriquez
Sean Spencer, Kelly Spencer, and Thommy Davis Executive Producers
'The End of It All' is the third single from DJ Spen's forthcoming artist album (Soulful Storm), following the very successful tracks 'I Wish I Didn't Miss You' and 'Keep Your Head to the Sky'.
'The End of it All' brings together Spen, Monique & Roland Clark for a powerful and soul stirring cry to the world. With emotions high, political tensions, and social injustice in the spotlight, Monique sings the words that many of us are likely to have thought at least once, "is this the end of it all?" Monique's signature sound and her unique way with words, along with Roland's strong and inspiring message make this a powerful song that is sure to resonate with the masses.
Spread over a selection of dubs, instrumental & vocal mixes, this is a perfect prelude to the forthcoming album. Get ready, a Soulful Storm is coming!
1. The End of It All (DJ Spen & Reelsoul Original Mix)
2. The End of It All (DJ Spen's Dub)
3. The End of It All (DJ Spen's Bonus Bass Mix)