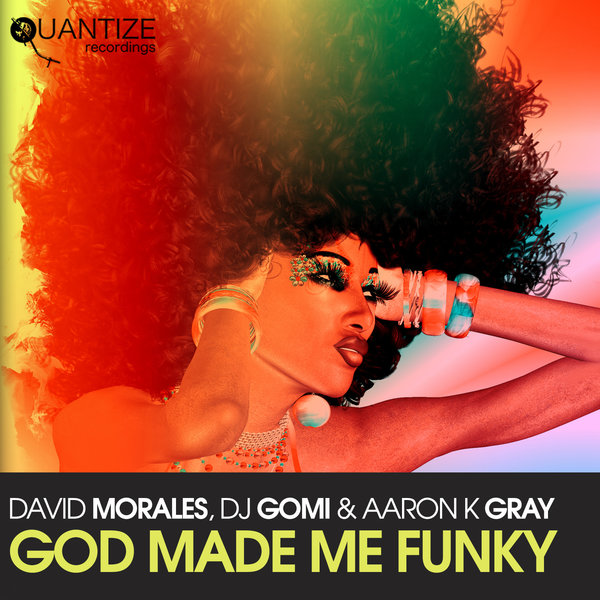 David Morales, DJ Gomi & Aaron K. Gary "God Made Me Funky"
Sean Spencer, Kelly Spencer, & Thommy Davis Executive Producers
Quantize Recordings is thrilled to welcome the Grammy award winning David Morales to the label with his re production of DJ Gomi and Aaron K Gray's "God Made Me Funky"
The Original and DJ Spen mixes of this infectious tune quickly became one of this year's soulful house favorites, gaining the support of fans and major players around the globe. As a result, the legendary David Morales has added his Kings of House flavor to this song with 3 outstanding mixes for you to choose from.
David's main mix, which features the explosive combination of Louie Vega and his son Nico on keyboards, combines infectious baselines, classic chord progress, and killer string sections as the foundation for the stunning vocals provided by Aaron K Gray. It will instantly lift your workout, car ride or dance party!
David has also included a Kings of House Dub and an Instrumental, and both have the grooves to make you move wherever you are!
These new mixes of "God Made Me Funky" is undoubtedly bound to be another unstoppable chart-topper that will make you feel good, so why not show us how funky you can be!
1. "God Made Me funky" (David Morales Kings of House NYC Mix)
Soulful House
Produced Arranged and Mixed by David Morales
Engineered by David Morales
Vocals by Aaron K Gray
Additional vocals by David Morales
Keyboard Overdubs & Synth Bass by Louie Vega & Nico Vega
Keyboard Overdubs Programming Engineer by Nico Vega
Additional keyboards by Tony Loreto & Paolo Sessa
Mastered by Michele Pappa @ NYC Mastering
2. "God Made Me funky" (David Morales Kings of House NYC Dub)
Soulful House
Produced Arranged and Mixed by David Morales
Engineered by David Morales
Vocals by Aaron K Gray
Additional vocals by David Morales
Keyboard Overdubs & Synth Bass by Louie Vega & Nico Vega
Keyboard Overdubs Programming Engineer by Nico Vega
Additional keyboards by Tony Loreto & Paolo Sessa
Mastered by Michele Pappa @ NYC Mastering
3. "God Made Me funky" (David Morales Sunday Mass Mix)
Soulful House
Produced Arranged and Mixed by David Morales
Engineered by David Morales
Vocals by Aaron K Gray
Additional vocals by David Morales
Keyboard Overdubs & Synth Bass by Louie Vega & Nico Vega
Keyboard Overdubs Programming Engineer by Nico Vega
Additional keyboards by Tony Loreto & Paolo Sessa
Mastered by Michele Pappa @ NYC Mastering
4. "God Made Me funky" (David Morales Kings of House NYC Instrumental)
Soulful House
Produced Arranged and Mixed by David Morales
Engineered by David Morales
Vocals by Aaron K Gray
Additional vocals by David Morales
Keyboard Overdubs & Synth Bass by Louie Vega & Nico Vega
Keyboard Overdubs Programming Engineer by Nico Vega
Additional keyboards by Tony Loreto & Paolo Sessa
Mastered by Michele Pappa @ NYC Mastering